"How do I get free coins in Lightning Link Casino?"
Lightning Link Casino provides two main ways of receiving "free coins"! The first is the Rewards you earn through completing missions and gaining lightning. The second is the Hold & Spin feature in the lobby.
Our Lightning Link Casino social page is also a great resource to become familiar with! It's currently still under maintenance, but we recommend keeping an eye on it for future free coin links!
Lightning Rewards, Step Rewards & Tier Rewards
Tap on the your current lightning total, and it will expand into a full menu of tiers & rewards.
Here, you can find how much the coin prizes are for each lightning level, and the amount of lightning you need to collect for the next tier and bonus upgrade!
Tier, Step & Lightning Rewards:
Note: Tapping on the "Missions"

button to the left of the tier progress bar will take you to the Seasonal Daily missions (above) which will help you collect more lightning!
The Bonus
The Bonus sits in the main lobby in the lower center of the display. Players can spin once every 3 hours, or gain tokens through their step rewards when they gain Lightning.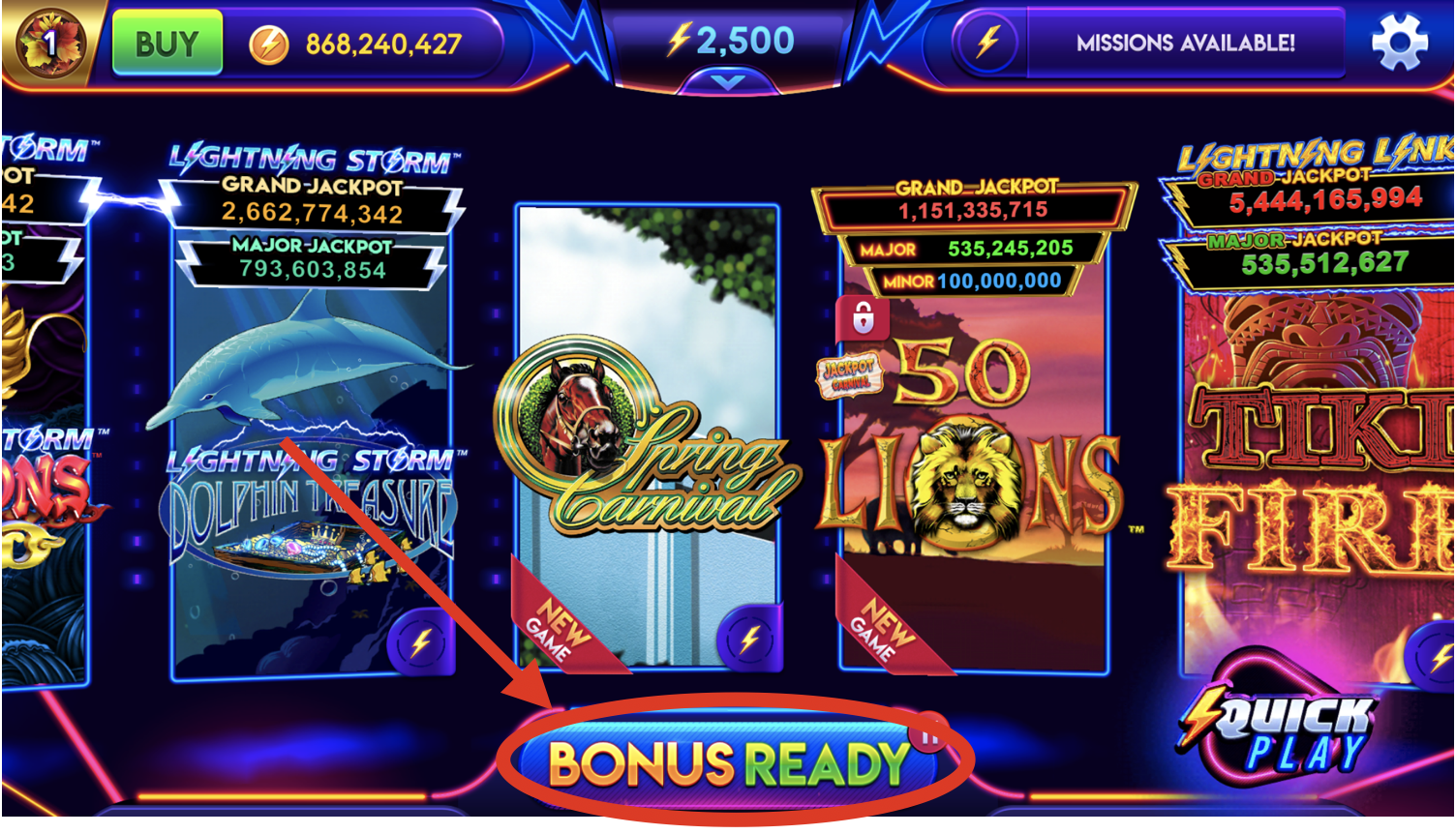 Active Bonus Button:
Active Bonus Button with Extra Tokens:

Inactive Bonus Button w/ Timer:
Tapping an active Bonus button will bring up a mini-slot machine like game where it'll spin a single reel. If it lands on your current badge icon, it'll activate Free Games, and two additional reels will be added on. If the badge is landed on again, additional games will be added.
Bonus Mini Game:
Regular winnings:
Bonus with Free Games:
In the end, it'll calculate your total at the top, and add it to your balance:
Note: If you want to skip the animation and simply get your winnings, tap the fast forward button located to the lower right of the minigame [
].
You can also check out our exclusive shop below!